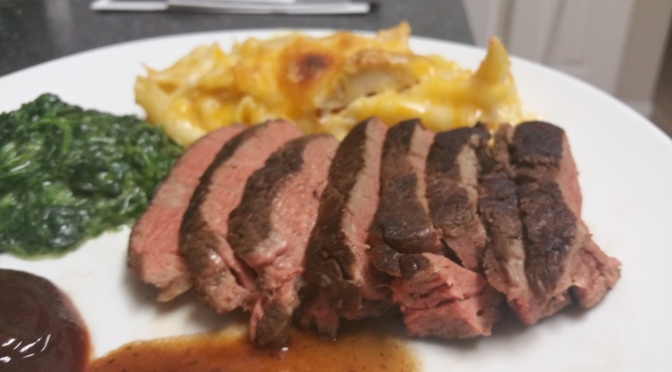 Sous Vide Supreme – Cooking Experiment #1 – Beef Tenderloin
I recently purchased a Sous Vide Supreme cooker ("Sous Vide" is French for "under vacuum"), and my very first cooking attempt was Beef Tenderloin, which I will share here.
The end result was the most tender beef tenderloin I've ever had, perfectly pink all the way through, with a nice crust on the edges. The meat could be cut effortlessly with a fork, and just melted in my mouth. I will definitely be making this recipe again!
1. Salt and pepper the beef tenderloin
2. Vacuum seal in cooking-safe plastic bags, with 1 tablespoon of butter
3. Cook at 138 F for 3 hours
4. Remove from bags and drain the juices.
5. Preheat cast iron skillet to just under the smoke point for butter
5. Briefly sear tenderloin on each side in butter (I used a cooking torch, too, just for fun)
6. Slice, plate, and enjoy
Resources:

Sous Vide Supreme Demi Water Oven, Black, SVD-00101

Waring Pro PVS1000CGB 1-Gallon Pistol Vac Reusable Bags, 24 Count

Waring Pro PVS1000 Pistol Vac Professional Vacuum Sealer System